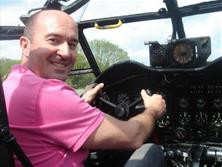 Jonathan Hammond
Principal
Having first opened the doors of HAMMOND Property Services on 1st July 1988, Jonathan has been the Principal driving force of the Company and is now based at the Bingham Office and is the main Valuer & Practice Manager.
Whilst selling property within the Bingham and Vale of Belvoir area is very important to Jonathan, the numerous Sponsorship arrangements that he has created are his pride and joy; helping many of the local clubs, groups, associations and charities as a result of successful house sales.
In addition, he is very well known locally as the creator of the annual HAMMOND Property Services Quiz which has raised over £24,000 for the Nottingham Branch of ChildLine!. A copy of the Quiz is available from the link on the home page.
Despite his young looks, Jonathan has over 35 years experience in Estate Agency.